Emily Monigle has had a busy 2021. Besides being valedictorian of her senior class at Cape Henlopen High School with a GPA of 4.17, being part of state championships in both lacrosse and field hockey, and being named the state Player of the Year in lacrosse, she was recognized as a Delaware Secretary of Education Scholar and is Delaware's representative for this year's USA Today High School Sports Award.
It takes a lot to juggle that, particularly when you add in the 18-year-old's community service, which includes participating in beach cleanups and helping with the food bank at Rehoboth Elementary.
Balancing all that includes hanging out with friends on weekends and driving or biking around Dewey.
"Sometimes we'll get pizza and then eat it on the beach and watch the sunset," she says. "My family has a beach house in Dewey, so a lot of the time we'll just get food and go hang out on the dock."
She considers Inlet Bridge one of her favorite places to go if she wants to clear her head.
"I would absolutely love to listen to music and just drive the Inlet and then pull in. There's this little spot that you can go to, to see the sunset over the bay and look at the bridge," she says. "[You] can walk on the bridge – sometimes my friends and I, if we just having a rough day, would bring our skateboards and skateboard on the bridge just for fun."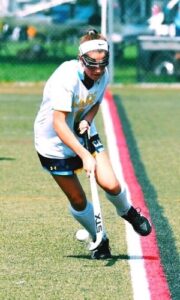 When it came to academics, Monigle fit in time to study or do her homework whenever she could. She'd do homework on the bus while others listened to music or were on their phones; get up as early as 5:30 a.m. to study before she got ready for school; or would even do her homework during boys' lacrosse games.
"I vividly remember going to a few of the boys' lacrosse games, obviously supporting our boys' team, and I would be studying for my test the next day in the stands. I would just bring my notebook, and at timeouts or at halftime I would read over my notes and quiz myself," she says.
Monigle says her school supported her "immensely."
"Even when I would miss school for a game, or sometimes for a practice during school, they always made it very easy for me to make up my work that I missed at a convenient time for me," she says. "I was never given any issues or face any difficulty in getting caught up due to sports."
Additionally, she used the school library for SAT studying during her free period and "used the iPad we were all given to my advantage to complete all my assignments online."