August 4, 2022
The 12 Best Boardwalks in America
We'll Be Falling in Love!
Strolling along a boardwalk while diving into an ice cream cone or testing each other's bravery on a classic pier-side thrill ride is practically a right of passage for having a proper summer. These 12 destinations host some of the best boardwalks across both coasts of the U.S.—and sometimes even in-between. From cult classic spots like Atlantic City, New Jersey, to newer, celebrity spotting outposts like Venice, California, and beyond, here are 12 of the best boardwalks built for summer across America.
1 of 12
Atlantic City Boardwalk
WHERE: Atlantic City, New Jersey
Atlantic City's boardwalk is internationally famous. It is said to be the world's first and longest boardwalk dating way back to 1870. The structure's original intent was to protect the nearby hotels from unruly ocean waves, but over time, as the boardwalk grew to its current length of 5.5 miles, it became an international entertainment hub. Explore the high-end hotels and casinos like the Hard Rock Hotel & Casino Atlantic City, or take a swing at Atlantic City Miniature Golf. Walk the adjacent piers, which offer visitors several additional attractions and shopping spots. Check out the Central Pier Arcade and Speedway for extensive choices of arcade games. At "Steel Pier," take a ride on the carousel or the observation wheel overlooking the city. Nearby, "Garden Pier" is the arts and cultural center of the boardwalk, featuring the Atlantic City Historical Museum and Atlantic City Art Center. 
2 of 12
Long Beach Boardwalk
WHERE: Long Island, New York
New York is famous for its classic boardwalks, including the famed Coney Island and Playland Beach (known as the place in the movie Big, where Tom Hanks's younger self wishes to be a grown-up before realizing adulthood isn't all it's cracked up to be). But the Long Beach Boardwalk on Long Island made a bigger and better come back after the devastation of Hurricane Sandy in 2012, which is a must-visit. This 2.1-mile boardwalk dates back to 1914, and today is a great spot to grab an ice cream and set out for a stroll next to the clean sandy beach. The walkway is teeming with quirky boutiques and unique eateries to explore. Head to Skudin' Surf School & Shop for surf lessons, board rentals, and other cool gear, or snap a picture in front of the highly Instagrammable Long Beach Osprey Wings. 
3 of 12
Santa Monica Pier and Venice Beach Boardwalk
WHERE: Santa Monica & Los Angeles, California
The Venice Beach Boardwalk is internationally renowned for its quirky street performers, talented artisans and vendors, buff "Muscle Beach" athletes, and the plethora of tasty food and drink choices along this 2-mile stretch of sand. Start the journey at the end of the Santa Monica Pier, where Pacific Park offers amusement park rides and funnel cake choices. Traveling south along the boardwalk, bikers, joggers, roller bladers, and walkers can enjoy unending sights of the California coastline flanked by a palm-tree-lined walkway. Scope out popular stops like The Waterfront, which sits directly on the boardwalk and serves tasty eats and curated cocktails in a spirited setting, or enjoy a more "elevated" atmosphere at High Rooftop Lounge at Hotel Erwin, which overlooks the boardwalk for the ultimate sunset view.
4 of 12
Floating Boardwalk of Coeur d'Alene
WHERE: Coeur d'Alene, Idaho
Who says boardwalks have to be on land? In Coeur d'Alene, Idaho, visitors can explore the World's Longest Floating Boardwalk, which is 3,300 feet in length, 12-feet wide, and 10-feet deep, with a 60-foot-long bridge. Visitors can hang out on the marina and enjoy the opportunity to rent out paddleboards, pontoons, or speed boats. At the Boardwalk Bar, adults can buy a beverage that can be enjoyed anywhere across the walkway. At Marina Cantina, try a signature cocktail and dive into some light bites while enjoying live music every Friday and Saturday evening. And it's not just a "summertime boardwalk." Each year at Christmas, this stretch of wood is brilliantly illuminated as part of the Holiday Light Show, featuring America's tallest floating Christmas tree as well as 1.5 million lights and 100-plus displays live on the boardwalk.
5 of 12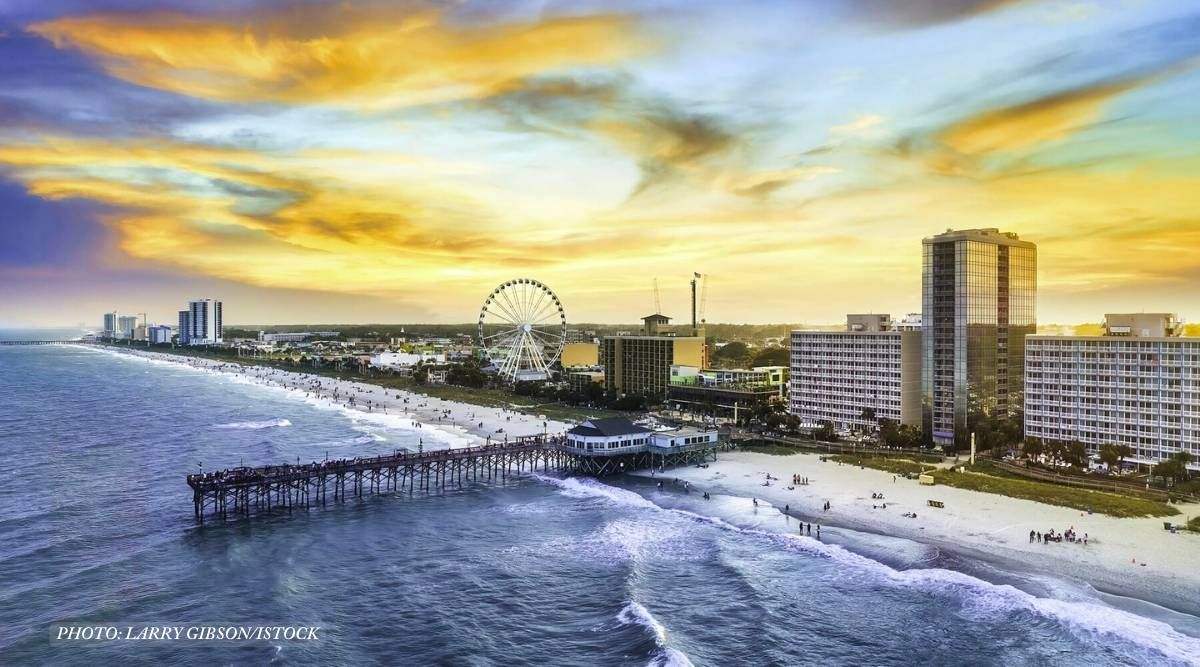 The Myrtle Beach Boardwalk and Promenade
WHERE: Myrtle Beach, South Carolina
The Myrtle Beach Boardwalk received the official trademark of "America's Boardwalk." This 1.2-mile-long stretch of promenade in the heart of the Grand Strand leads visitors through the sand from 14th Avenue to the 2nd Avenue Piers in Myrtle Beach. It's home to a number of festivals and events throughout the summer and is a favorite destination for visitors of any age. Walk along the pathway and enjoy oceanfront views of the sea. Ride the iconic Myrtle Beach SkyWheel, and stop at various shops and restaurants along the path, such as Riptydz Oceanfront Grill, Rooftop Bar, and Landshark Bar and Grill. This boardwalk is getting a $3.7 million facelift at the moment; the traditional wood surface is being replaced with new decking from Plyler Park to Eighth Avenue North, with work scheduled to be completed later this summer.
6 of 12
Carolina Beach Boardwalk
WHERE: Carolina Beach, North Carolina
The Carolina Beach Boardwalk is a vintage icon dating back to 1887. Visitors can enjoy tasty food, shopping, and even seasonal attractions on this pathway that feels like a nostalgic blast into beach days past. Those with a sweet tooth can Britt's Donut Shop to dive into a handmade donut—this legendary, cash-only shop dates back to 1939 and still serves their original, family-made recipe. Those who'd prefer something heartier can stop by the Carolina Smokehouse for some of the best barbecues in the region. Hurricane Alley's perch on the Boardwalk offers ocean views, beachy beverages, and local craft brews with classic seafood selections and light snacks. Stop into the Carolina Beach Arcade just a block from the ocean for a break from the southern sun and ride the brand new 95-foot Ferris Wheel that just opened in Spring 2022.
7 of 12
Ocean City Boardwalk
WHERE: Ocean City, Maryland
The classic Ocean City Boardwalk spans three miles offering amusements, games, and rides. Plus, visitors can encounter live music and street performers on any given day. Enjoy the scenic sights from the top of the Ferris wheel, or squeal with excitement on the roller coaster. Slow down and hop back in time on the carousel, which dates back to 1902, and was installed in 1912—it's the country's oldest continuously operating carousel with two tiers of elaborately carved and painted animals. Explore the diverse foodie scene offering everything from iconic Maryland crab cakes to fresh-baked pizza. Grab some cotton candy, homemade fudge, saltwater taffy, or a hot funnel cake, or cool down at one of the ice cream parlors on the boardwalk.
8 of 12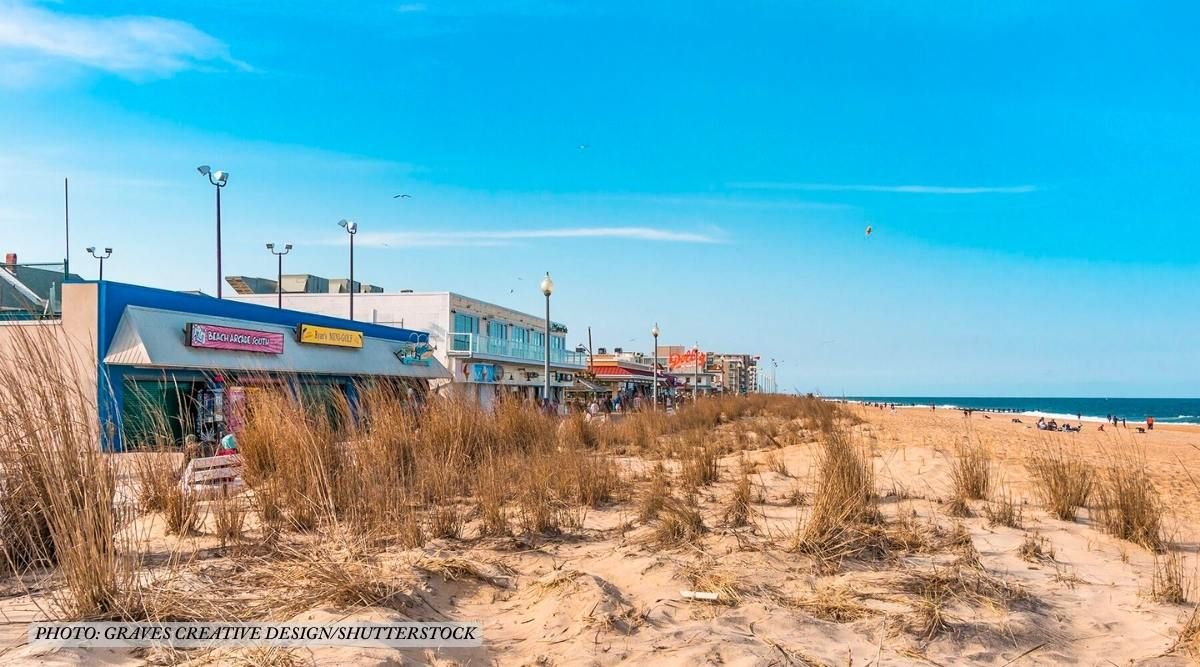 Rehoboth Beach Boardwalk
WHERE: Rehoboth Beach, Delaware
Rehoboth Beach's one-mile beach boardwalk offers visitors the chance to dive into classic summer fun with beach snacks, games, shopping, and major attractions such as "Funland," an amusement area and arcade that's been operating for over 60 years. There are nearly two dozen rides at Funland, ranging from low-key classics like the carousel to more thrilling adventures like the "Superflip360" or "Freefall." After working up an appetite at Funland, listen to the sounds of the free summertime bandstand concerts, dive into a "Big Daddy Funnel Cake" at Starkey's Funnel Cake Factory, and curb any seafood cravings at Obie's By the Sea. The boardwalk is open to bicycles from 5 a.m. to 10 a.m. from mid-May through mid-September. But be warned that roller blades and skateboards are prohibited from mid-May through mid-September.   
9 of 12
Virginia Beach Boardwalk
WHERE: Virginia Beach, Virginia
Dating way back to 1888, Virginia Beach's famous 3-mile boardwalk is a perfect spot for visitors of all ages to enjoy some summertime fun. The path is 28-foot wide and has a separate bike path for two-wheel thrill-seekers. Check out live entertainment at one of four oceanfront stages on 7th, 17th, and 24th and 31st streets. Art enthusiasts can admire the range of nautical sculptures decorating many side streets leading to Atlantic Avenue. Be sure to stop at King Neptune—this 24-foot, 12-ton bronze statue stands at the gateway to Neptune Festival Park on 31st Street (and is a great photo opp). There are dozens of places to grab a bite, like popular local restaurants, Waterman's—and history buffs should check out The Virginia Beach Surf & Rescue Museum for a unique and historic educational opportunity.
10 of 12
Mission Beach Boardwalk
WHERE: San Diego, California
Spanning 3.5 miles from North Pacific Beach to South Mission Beach, San Diego's iconic Mission Beach Boardwalk has it all. Guests can step into one of the dozens of local shops, restaurants, or parks along the walkway—and the boardwalk is also popular amongst bikers as it offers equipment for rent. Stop at Belmont Park, which is free to enter since visitors pay only for the attractions they'd like to try. Thrill-seekers can embark on the historic, restored wooden roller coaster or enjoy some friendly competition with a game of laser tag. There's also a tilt-a-whirl and a carousel, among other exciting rides. Grab a bite to eat and settle in for some people (or surfer) watching with a classic cream cone at Beach Treats, or a quintessentially SoCal Dole Soft Serve. The Mission Beach Boardwalk is what seaside summer dreams are made of.
11 of 12
Navy Pier
WHERE: Chicago, Illinois
Completed in 1916, Chicago's Navy Pier feels like the ultimate boardwalk experience. Head to Pier Park for a ride on one of Navy Pier's most iconic attractions: the magnificent Centennial Wheel, which soars to nearly 200 feet and offers unrivaled, 360-degree views of Chicago and Lake Michigan. There's also a carousel, a wave swinger, mini-golf, and a drop tower for thrill-seekers. Check out the Navy Pier Beer Garden for free and live outdoor music performances and local craft brews from Tangled Roots Brewery. And there's of course, a seemingly never-ending array of Chicago classic food options on the Pier, like Giordano's (legendary Chicago deep dish pizza) and Garrett Popcorn Shops (the Original Chicago-Style Popcorn). Look out for Fireworks lighting up the night from Wednesday through Saturday nights, Memorial Day weekend through Labor Day weekend.
12 of 12
Kemah Boardwalk
WHERE: Galveston Bay, Texas
In Texas, travelers can explore the Kemah Boardwalk overlooking Galveston Bay, which features a variety of themed restaurants, retail shops, and amusements for visitors of any age. Dine at boardwalk classics like Bubba Gump Shrimp Co., Landry's Seafood House, or Aquarium Restaurant, which serves guests a great view of the 50,000-gallon aquarium full of diverse marine life. This boardwalk also offers plenty of carnival festivities, including a 36-foot carousel, a 65-foot Ferris wheel, and exciting rides like the Boardwalk Bullet. Relax and listen to some live music at Kemah Boardwalk's Summer concert series called "Rock the Dock" every Thursday night at 7 p.m., beginning on June 19th.